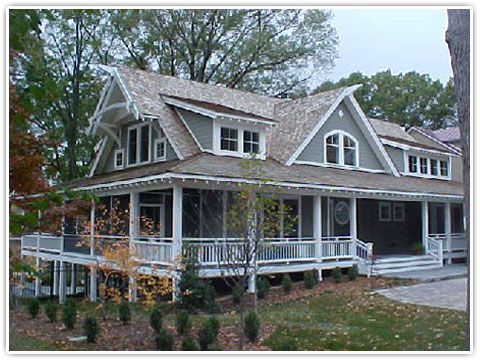 George A.M. Brown Construction offers services inclusive of the final product you will receive as a client.
His company does the finest interior finishes and woodworking available. Custom built-in cabinets are a main feature in his options to his clients. This process is done in the field. The process means the sub structures are field measured, built and then faced out in the field with the moldings consistent to the style of the home.
Faced out boxes mounted in the field are not custom built-ins. There should be no seams in the facing between each cabinet.



The trim packages on the homes we do are installed after careful selection of moldings and mockup samples for the client. Contact us for more information and view the portfolio available.
---
During the many years of construction George Brown has been contracted to build additions to and renovatemany homes. His education in architecture was key to fulfilling the desires of the clients. The ultimate goal is always to make the addition look as though it was part of the original structure. Major renovations are not usually the product of rebuilding, but redesigning.
Structural modifications and design are a necessary part of additions and renovations. This is a required function that this company offers to do these jobs.
Take something old and make it exactly what you want.
---
- Design Services -
George A.M. Brown Construction is a full service design company. George personally designs homes, additions, renovations and built-ins listening to the client and delivering the product the client wants. The design is a product of the clients desire for a certain type of architecture. When redesigning, it is to make an existing structure more functional and bring the home up to date. The portfolio on this web site shows the diversity of this company. We can design and deliver anything you desire. The actual plans of past jobs by George A.M. Brown are available for viewing in person.
Contact George A.M. Brown for an appointment.

---
Recently George A.M. Brown Construction has ventured into Custom Commercial Office Buildings.

After 30 years in the business, something has to give !!

A past client of a Custom Home had a dream of moving his dental practice into a new building. The interior function and design he desired needed to be well planed. Dr Grant H. Schneider of Alexandria Va. 22306 (703-768-1223) researched and found Michael Unthank (AIA) of Lincoln Nebraska ; specializing in dental floor plan architecture (402-423-3300)
Dr. Schneider purchased a lot, gave George the floor plan and he designed the building and site work around it.
This building is truly spectacular and will allow
Dr. Schneider to offer the best dental care available.
This is the current project under construction at this time. See Photos

In addition to this ongoing commercial job
George A.M. Brown also recently completed an office and industrial site for a major roofing company.
---
- Site Work and Heavy Equipment -
George A.M. Brown has been a long time associate of the Levin Companies. George A.M. Brown framed houses for the Levin Development back in the early 1990's. Doug Levin with his equipment and dedicated employees have continued to work with George since then. The loyalty of this relationship has made all site work, on all jobs, turn out nothing less than perfect from start to finish.
George A.M. Brown's company uses no other site contractor and is proud to be a partner with associate.
What this means for the client is that George A.M. Brown Construction has the dedication of an associate to schedule site work when needed and done to the highest standards and specifications available.
Any of these services are available independent of a contract to build what ever you desire.